Part 1 - Dec 09.
While shooting with Monica in a London hotel, our girl's moans of delight brought a visit by the hotel manager-ess.
To our surprise, the manager-ess, a polish girl called Evey, was quite interested in what we were doing and stayed to watch before stripping off and joining Monica in some hot Girl/Girl action.

Download:

640x480 .WMV
24m 40s runtime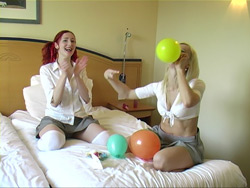 Download:

640x480 .WMV
17m 26s runtime
Part 2
After Evey finishes her shift, our blonde hottie pays us another visit to see what additional fun she could have with our sexy redhead.
After some discussion before we started shooting, i nipped out to buy a pack of balloons while our two girls dressed up as naughty schoolgirls. Wondering why our two girls wanted balloons, we are soon to find out as they proceed to blow them up (or in Evey's case, tries to) and burst them just for the hell of it, while giggling, laughing & flashing their underwear.!!
Hmm, apparently this seems to be a peculiar fetish that seems to be catching on and therefor we were happy to shoot this scene, despite the lack of nudity.
Part 3
Our hot redhead & sexy blonde girl decide to strip out of their sexy uniforms and down to their underwear and tease us with with sex toys.
Stripping out of their underwear, Monica cannot keep her hands off Evey while our blonde girl masturbates on the bed with her dildo.
Reversing the roles see's Evey caressing Monica while our fiery redhead pleasures herself on the bed.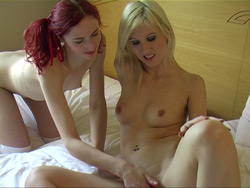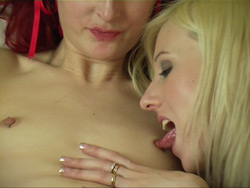 Download:

640x480 .WMV
13m 04s runtime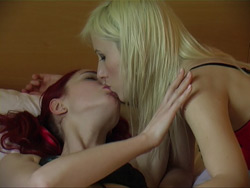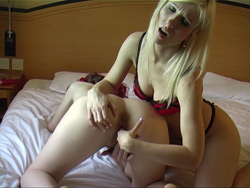 Download:

640x480 .WMV
9m 22s runtime
Part 4 (Final).
Hot redhead Monica is lying on the bed resting after the previous scene while blonde babe 'Evey' puts on some sexy lingerie in the bathroom.
Evey just cannot keep her hands off our Monica and we are treated to more Girl/Girl action as Monica gets caressed & fingered by Evey.
To end this set, Evey proclaims she is going for a shower, and this scene will be released under Evey's solo gallery.